Friday, August 31st, 2018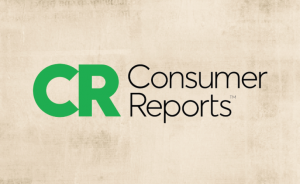 Despite a rare and stinging rebuke issued by the FDA, activist magazine Consumer Reports is again pushing reckless misinformation about seafood consumption.  Directly contradicting the public health guidance from federal agencies and every leading medical institution, the magazine claims that "Consumer Reports analyses of mercury levels in tuna suggest that pregnant women shouldn't eat it at all."
Yet in response to their initial canned tuna "report," the FDA released a statement, "[T]he methodology employed by Consumer Reports overestimates the negative effects and overlooks the strong body of scientific evidence published in the last decade." Consumer Reports false claims that pregnant women should completely avoid canned tuna, while other consumers should stick to light canned tuna, are based solely on their own irresponsible and makeshift study.
Leading health officials have long understood and advised that canned tuna is a nutritious food that provides many health benefits. The Dietary Guidelines for Americans urge consumers to eat more fish and recommend tuna as a healthy option. The United States Department of Agriculture (USDA) also suggests that Americans eat at least 2-3 servings of seafood per week. That's because seafood is rich in important nutrients, such as a vitamins B12 and D, iron, zinc, magnesium, phosphorous, selenium and beneficial omega-3s called EPA and DHA.
Their statement is especially misleading because the average can of light or albacore tuna has mercury levels of 0.1 and 0.3 parts per million, substantially below the FDA's safety level of 1.0ppm. That means that, according to the FDA's Net Effects Report, which encompassed over 100 peer-reviewed studies, the average person can safely eat tuna for breakfast, lunch, and dinner every day of the week.
Between the FDA's admonishment and our constant reminders that Consumer Reports is misleading the public, which we've done here, here, here, and here, the magazine has presented no substantive response. Most Americans are eating dangerously low amounts of seafood, a deficiency that contributes to nearly 84,000 preventable deaths each year. Yet Consumer Reports continues to scare consumers away from one of the most nutritious and easily accessible seafood options. Their utter disregard for the accepted and prevailing public health consensus on the safety of tuna consumption is disgraceful.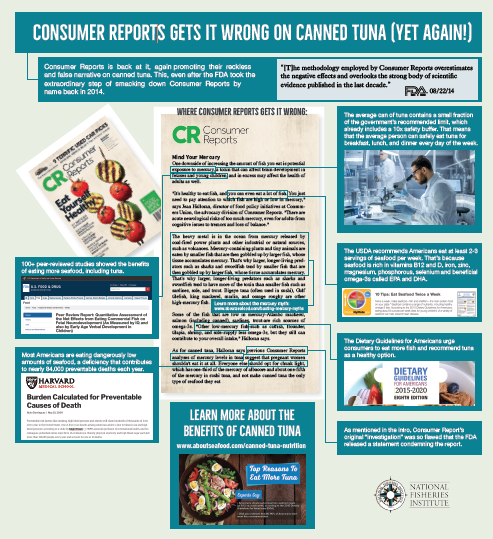 Posted by TFT-Staff